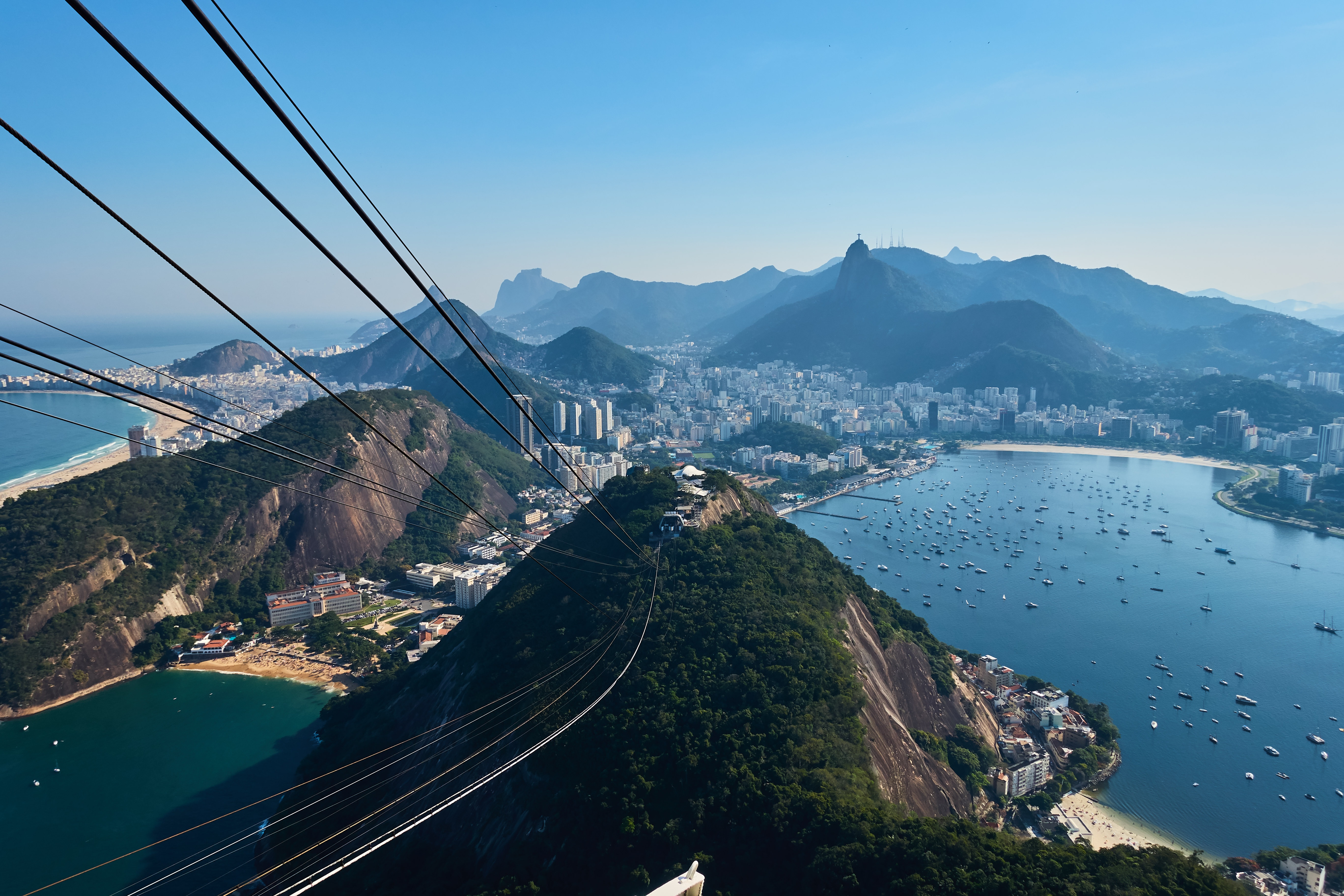 Brazil is the "B in BRICS" – the largest economy in South America and one of the leading emerging markets of the 21st century. But how much of this positive development trend has remained after five years on consecutive crisis? Corruption scandals at the very top of the state, mass protests and an economic recession have permanently clouded the prospects for stability. Presidential elections, to which many observers attribute a trend-setting significance, are scheduled for this Sunday. Will Brazil succeed in reverting to its former status as a regional power hub and global economic asset, or will it turn to an inward-looking country struggling to cope with internal crises in the future?
Snapshot: Regional Risk in Brazil
As our Regional Risk Map 08/2018 demonstrates, Brazil had remained fairly stable in the weeks prior to the election. However, violence occurred in northeastern Maranhão for the first time this year when a Guajajara community leader had been murdered while campaigning against the incursion of loggers into their land, a conflict that had left some 80 Guajajaras dead since 2000. Another headache for the incoming President could be increasing tensions between local residents and more than 32,000 Venezuelan asylum seekers in border regions like northwestern Roraima – where a number of violent attacks had been registered for the first time in August. Brazils urban power houses São Paulo and Rio de Janeiro had been spared from inter-communal strife, but witnessed an uptick in violence due to a more assertive law enforcement campaign against organized crime by the outgoing Temer government – including so called Mega Operations in Rio's favelas that employed over 4,000 personnel, armored personnel carriers and even aircraft on August 20 alone.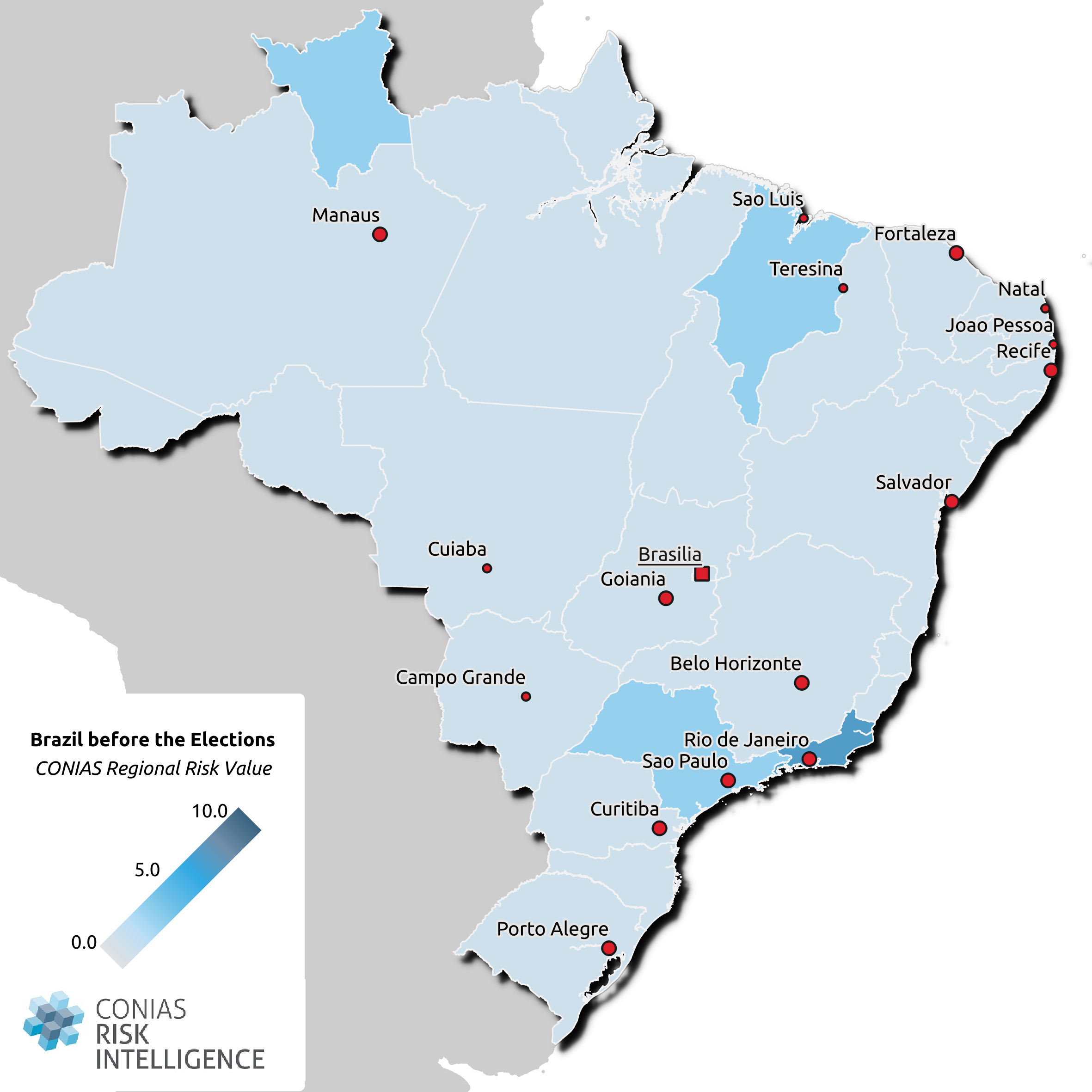 Snapshot: Presidential Elections in Brazil
Hundreds of thousands of Brazilians protested under the motto Ele Não (not him) in the past days against Frontrunner Jair Bolsonaro, deemed "Trump of the Tropics", yet what would his election mean for Brazil's international partners? In the CONIAS Risk Report for Brazil, the election of Bolsonaro, a former military officer and member of the conservative Social Liberal party promising a tough stance on crime and corruption, marked the entry point for a worst case scenario. Would voters opt in favor for "an 'outside' candidate and the aid of the 'incorruptible' military" given the fact that security, improved social services, and above all the fight against corruption in the political establishment would remain top priorities? If so, could his election elevate Brazil's security forces back into political power and continue the worrying trend of militarization of the country's domestic politics? Could this ignite further violence making Brazil a less safer tourist destination? With regard to international business and investment, Bolsonaro, who admitted to "know little about the economy" might opt for a more nationalistic stance on trade and even show protectionist reflexes. Hence, the report concludes that investors should prepare themselves for an at least short- and midterm increase in uncertainty and take necessary precautions.
#ExpertInsight: Interview with Isabel Barreto, Junior Analyst at CONIAS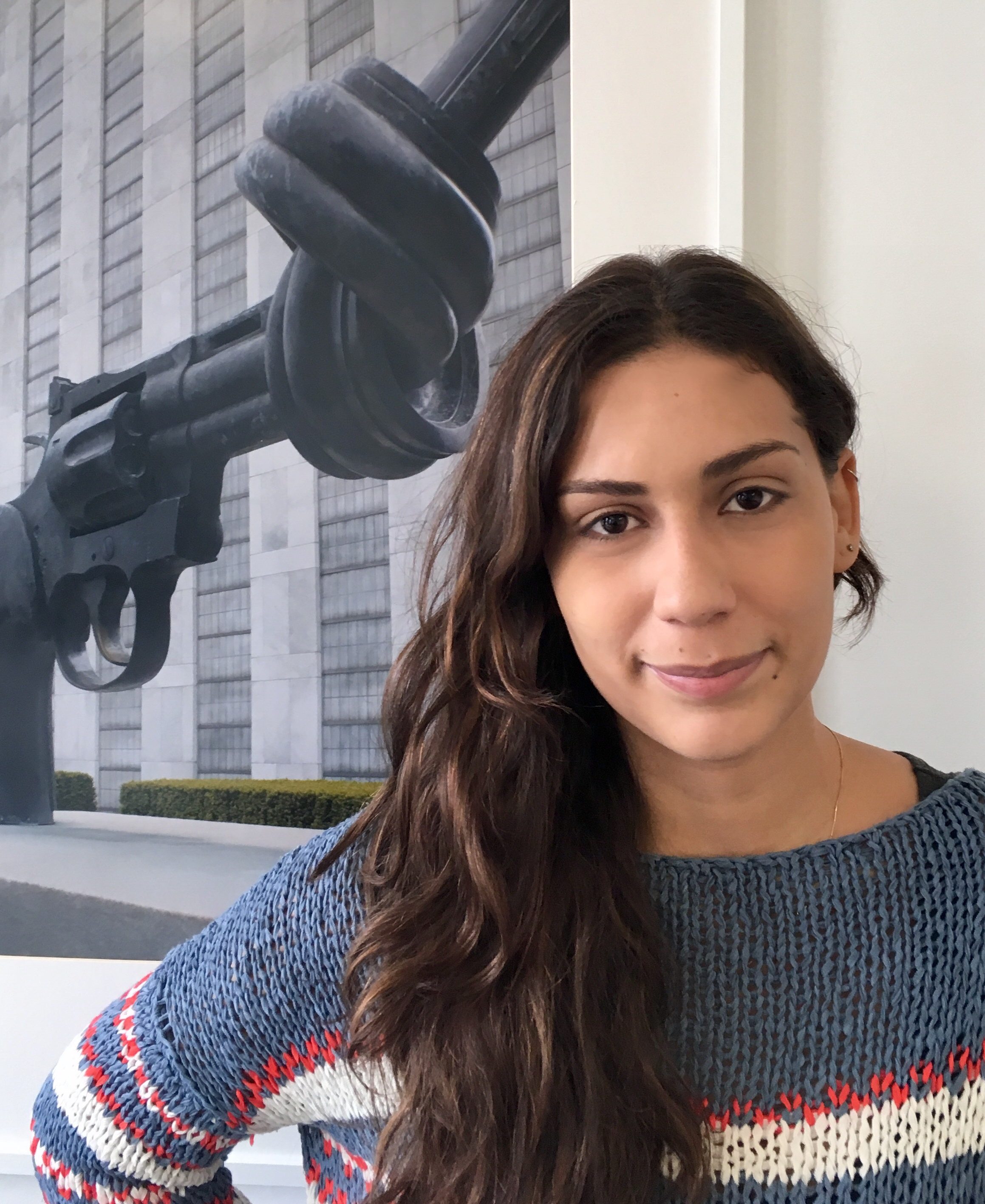 In our #ExpertInsight, Isabel Barreto, Junior Analyst at CONIAS, provides more information on why it's worth keeping an eye on Brazil this month.
Isabel, Brazil is the "B" in "BRICS" and an economic powerhouse – what makes it so attractive also for international companies and investors?
Brazil is the world's fifth-largest country by area and the sixth most populous – it's just too big to be overlooked! The country's trade with the European Union makes up roughly a third of the EU's total trade with Latin America – Brazil is the single biggest exporter of agricultural products to the EU, which, in turn, ranks first among foreign investors in Brazil. Moreover, negotiations about a free trade agreement with Brussels are well underway. Brazil is rich in commodities and natural resources, the second largest producer of iron-ore worldwide and experienced major offshore oil discoveries. Strategically located and home to a large and well-educated workforce, Brazil is also well connected through fora such as the G20, MERCOSUR, UNASUR and BRICS.
At CONIAS, we monitor more than 170 political conflicts in the Americas monthly – why should we pay particular attention to Brazil this month?
Corresponding with our findings for other countries in the region, security and stability in Brazil remain to be challenged by organized crime (both narcotics and trafficking), conflicts between expanding farm businesses and indigenous tribes, as well as rising social tensions between Venezuelan refugees and host communities. Moreover, the campaign for the upcoming Presidential elections certainly left a mark on Brazil, with a candidate barred from running, another candidate having been attacked with a knife, mass protests against individual candidates, and an unprecedented polarization of the electorate. Whatever happens on Sunday, Brazil could face a period of high uncertainty.
On October 7, there will be Presidential Elections in Brazil – who are the main competitors and how high are their chances of winning?
Thirteen candidates compete for Brazil's highest office, currently held by Michel Temer, who – amid disapproval rates of 82% in June 2018 - decided not to seek reelection. As no single candidate is expected to secure a majority of votes in the first round, the election will be most likely decided in a second round. Here, the current frontrunner according to polls and congressman for Rio de Janeiro, Jair Bolsonaro, might most likely be challenged by Fernando Haddad, the Workers' Party's replacement for former President Lula da Silva, who had been barred from running as he's currently serving a prison sentence for corruption. But also Marina Silva, Lula's former Environment Minister, the more centrist Geraldo Alckmin, who lost to Lula in 2006, and the center-left Ciro Gomes have a chance to make it to the second round. Given the high polarization of the campaign, it is likely that the electoral base of the latter four will back the anti-Bolsonaro candidate. The outcome of the elections is certainly not sure at this point, as Bolsonaro leads the polls both with regard to approval and disapproval. Many compare him and his polarizing rhetoric, seen as misogynic, racist, homo- and xenophobic, to US President Donald Trump and like him, Bolsonaro already faces mass protests and was even stabbed at a recent campaign rally.
You have just returned from a trip to Brazil – how would you describe the current mood among voters and the wider public?
You can really feel the polarization between the supporters of Bolsonaro and those who back the Lula-camp – even family members find themselves on different political sides. At the same time, there is also a deep frustration and lack of trust in public institutions to which a politician like Bolsonaro contributes by for instance announcing to not accept any election result but a victory. While some praise him, who doesn't have a record of corruption charges, in nearly messianic terms, others take their anger about him praising the military and using divisive language against women and minorities to the streets. Brazil had experienced many mass protests in the past years, but this is the first time that people demonstrate not against the government but against a candidate before even taking office. For many voters, who are also fed up with the Workers' Party and corruption of previous governments, the election will be a choice between two lesser evils. The anti-Bolsonaro feeling among voters is as strong as the anti-Workers Party sentiment. Many people may not agree with Bolsonaro's aggressive discourses, but see voting for him as the only way of preventing the Workers Party from wining its fifth consecutive presidential elections.
Brazil is a key political and economic power in the region – what impact could these elections have for the near- and mid-term political development of the country? What are the biggest risks?
Whoever wins the elections, uncertainty is likely to remain a significant feature of Brazilian politics – at least in the short-term. At the same time – the government's to-do list is an extensive one, ranging from public health and safety, reviving the economy, tackling corruption and unemployment, social security and pensions to education. A Bolsonaro victory would certainly strengthen the current trend of militarization when dealing with organized crime, which could further deteriorate the situation in the favelas, the military would gain more political power and gun restrictions could be eased under the pretext of securing public order. With regard to foreign policy and the economy, there is no clear scenario: Bolsonaro is expected to seek better relations with the United States and the planned privatization of Petrobas might benefit foreign companies, he also threatened to leave the United Nations as they criticized Lula being barred from running. Another source of concern is that Bolsonaro, who publicly stated not to know much about economy, has already picked a very public fight with his prospective "super minister" and economic guru Paulo Guedes on taxes and how to finance the much-needed overhaul of Brazils unsustainable pension system.
---
Isabel Barreto is a Junior Analyst at CONIAS Risk Intelligence with a special focus on conflicts in the Americas. Her research interest includes security sector reform and autocratic regimes. Beyond that, she studies Political Science and Cultural Studies at the University of Heidelberg.
The questions were posed by Dr. Magdalena Kirchner, COO of CONIAS Risk Intelligence.
You travel, trade and invest internationally and want to know more about political risks? Subscribe to our Newsletter to stay up to date on global developments and company news or get in touch with us directly for tailor-made consulting and data solutions - we look forward to hearing from you!