Our MBI CONIAS Academy qualifies risk analysts and managers to deal with political risks. Participants learn to identify and assess risks and to develop appropriate countermeasures in order to reduce or completely avoid risks. After completing our seminar, participants will be able to use their specific knowledge to create transparency for their company and mitigate risks along the entire supply chain.

The MBI CONIAS Academy is located in the heart of Heidelberg. The seminars are currently only available in German language. The skill set is taught in 3 modules that build on each other. After each module, participants receive a certificate of completion.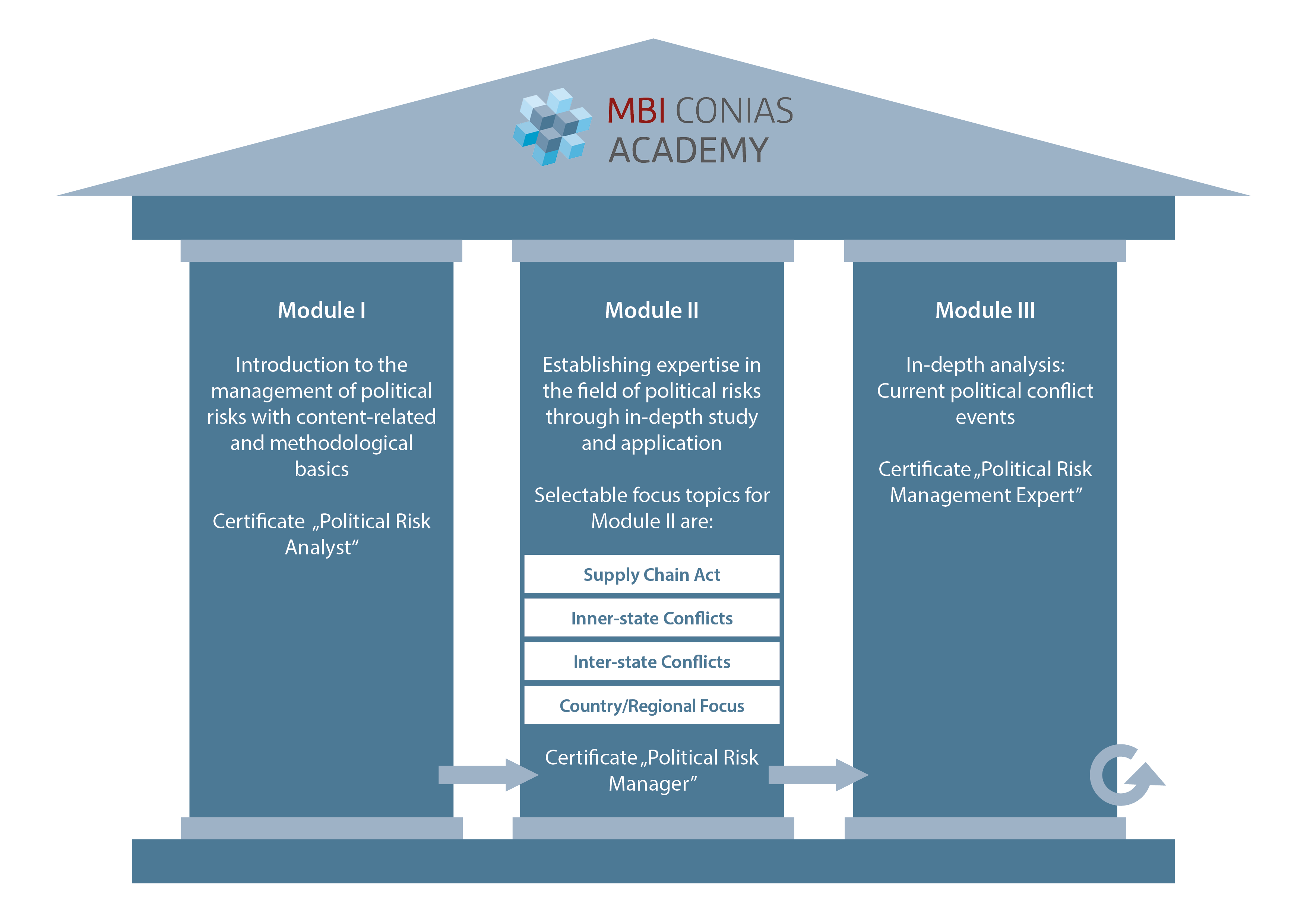 Course Content:
How is political risk defined and why is the successful management of political risk becoming increasingly relevant? Introduction to holistic risk management.
How can political risks be identified, assessed and managed? Learn different approaches that will enable you to be a Political Risk Analyst for your company.
What are the concrete implications of political risks? Learn to assess the scope and likelihood of occurrence in a business, political, and social context.
Which compliance fields deal with political risk? We will show you key implications and requirements of the new Supply Chain Act for your company.
Course Content:
The world of political conflicts is complex and constantly changing. In view of the diversity of risks and associated issues, Module II is offered with different focus topics. Building on the basis of the introductory seminar Module I, you will be provided with specialized knowledge within the respective focal topics. The following focal topics can be selected:
Supply Chain Law: The German and European Supply Chain Act as a risk to corporate reputation (together with Funk Risk Consulting)
Intrastate conflicts: terrorism, kidnappings, roadblocks and other effects of diminishing state power – the risk of intrastate conflicts
Interstate conflicts: threats, trade barriers and sanctions – the economic impact of interstate conflicts
Country/regional focus: China as a system competitor? Will the great Asian power become the winner of the Ukraine war and thus the largest economic power?
Course Content:
You analyze a current political risk together with our respective country experts.
We teach you about new or improved indices for the analysis of political risks.
You will learn to apply tools and methods from Modules I to II to a current case.
Best Practice: Join established political risk analysts from academia, research as well as corporate risk consulting in discussion and exchange and build your network.
One-day event with evening get-together for networking across module years